There is something about the sparkling glow of Christmas lights that makes me giddy.

I remember when I was a kid how we would pile into the car and drive around town just looking for houses decorated for the holidays.

There was an older gentleman in our community that really went all out—we called his place The Gingerbread House and would beg to go see it every year.

Yes, that house was awesome, but it is nothing compared to magnificent display that the Osborne family of Little Rock, Arkansas used to put up year after year.
Osborne family - recognize the name?

That's right!

Each year the Streets of America in Disney's Hollywood Studios get decked out with 5 million twinkling lights.

They call this display the Osborne Family Spectacle of Dancing Lights.

I think many Disney fans have become accustomed to the fact that every Disney attraction has a backstory, but did you realize this particular backstory is based on a real family?
As I mentioned, the Osborne family from Little Rock, Arkansas was known for their light display.

It was such an enormous display that Mr. Osborne actually purchased neighboring houses (one on either side of his own home) so that he could expand the display.

Eventually, what was considered festive by some was considered a nuisance by others. In 1995 the Arkansas Supreme Court ordered the Osborne family to take down the abundance of lights.

Long story short, the powers that be in the Disney company heard about this and decided to approach Mr. Osborne about putting up his light display at Disney-MGM Studios.
The Osborne Family Lights came to life on Residential Street in Disney-MGM Studios for the 1995 holiday season.

I got to see this version of the display in 1999.

I am not exaggerating when I say that I have NEVER seen so many lights!!!

Combine that with Disney's "snow" and even Scrooge himself would be in the Christmas spirit.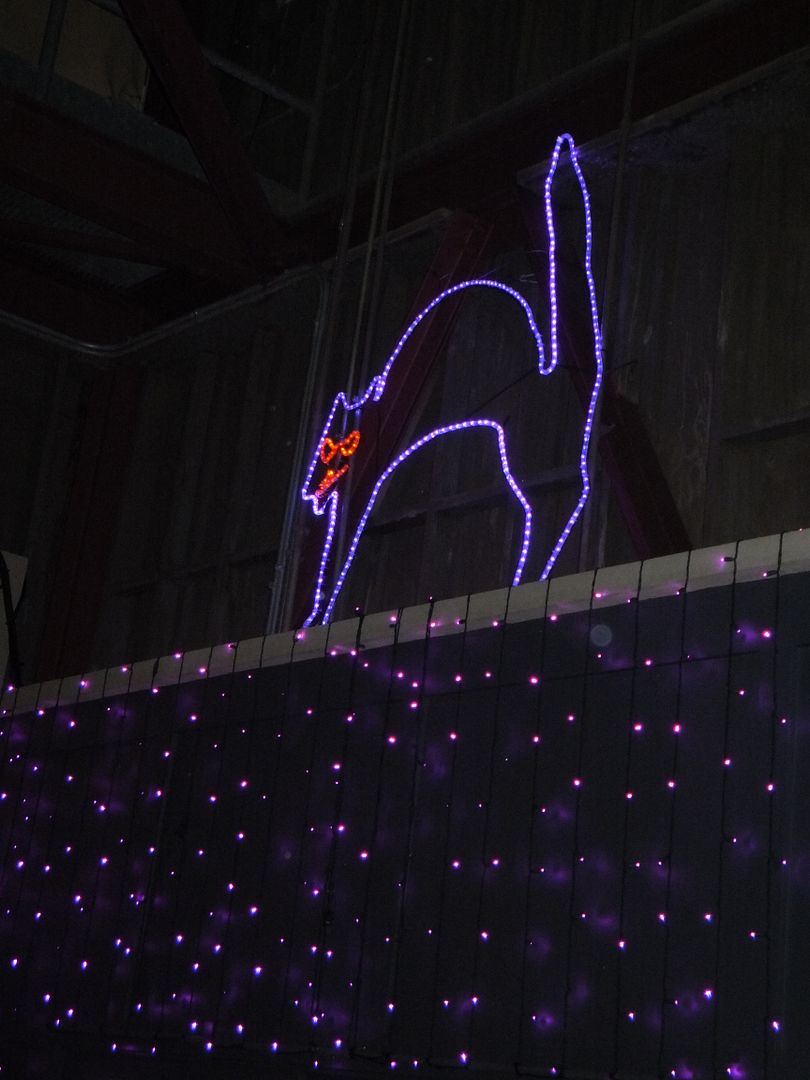 As the display has evolved over the years the lights have all been replaced with LEDs and every 15 minutes they "dance" to the music.

Many aspects of the original display still exist—such as the iconic globe and the words "Peace on Earth," the dozens of angels floating in the night, and the hidden Halloween cat! (Legend has it that a light up cat from the Osborne's Halloween light collection accidentally got mixed in with the Christmas lights when they were shipped to Disney in 1995.

Now the Imagineers like to have a little fun and hide the cat in a new location each year)
If you are fortunate enough to be at Walt Disney World during the holiday season I strongly encourage you to stop by Disney's Hollywood Studios to see the Osborne Family Spectacle of Dancing Lights.

They will truly take your breath away.
This year the lights shine from November 9-January 4, 6pm-close every night on the Streets of America. The lights come to life as they are choreographed to Christmas music every 15 minutes.

New this year is Goofy's Winter Wonderland, where you can meet Goofy Santa.

This meet and greet is located in Tri-City Square.