The Magic Kingdom will soon begin work on a new permanent Main Street U.S.A bypass that will provide an alternative entry and exit to the Magic Kingdom.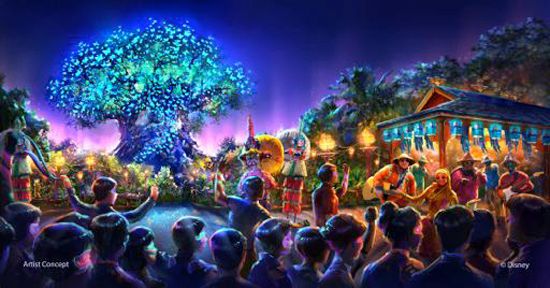 If you have ever attended the fireworks in Magic Kingdom during the busier time of the year you have more than likely been directed behind the buildings on the right side of Main Street U.S.A. Although this route allows for a much easier entry and exit, it is an un-themed area and is not in keeping with the show of the Magic Kingdom. The new Main Street U.S.A bypass will be built behind the buildings on the right hand side Main Street, which is the side with the Main Street Bakery. Construction is expected to begin imminently.
Over the next couple of weeks more FastPass+ kiosks will be added at the parks to accommodate those guests not using a smartphone or who wish to get help with FastPass+.
The Magic Kingdom will be adding kiosks at the existing FASTPASS distribution locations at Town Square Theater, Mickey's PhilharMagic and Splash Mountain. Disney's Hollywood Studios will have a new kiosk at the main entrance guest relations. Epcot will be adding kiosks at the FASTPASS distribution for Mission: SPACE and Soarin,' and Disney's Animal Kingdom will add kiosks at FASTPASS distribution for Expedition Everest.
Here is the full lineup of FastPass+ kiosk locations.
Magic Kingdom
Guest Relations at City Hall
Town Square Theater
Near The Diamond Horseshoe
Mickey's PhilharMagic
Storybook Circus FASTPASS distribution
Town Square Theater FASTPASS distribution
Mickey's PhilharMagic FASTPASS distribution
Splash Mountain FASTPASS distribution
Disney's Hollywood Studios
Sid Cahuenga's One-of-a-Kind
Tip Board
Voyage of The Little Mermaid
The Twilight Zone Tower of Terror
Guest Relations lobby
Epcot
Guest Relations in Future World
Tip Board
International Gateway
FutureWorld West breezeway
Mission: SPACE FASTPASS distribution
Soarin' FASTPASS distribution
Disney's Animal Kingdom
Guest Relations
Disney Outfitters
Kali River Rapids
Primeval Whirl
Expedition Everest FASTPASS distribution
Disney has today announced that Fit2Run will be moving into the vacant retail space next to Curl at Downtown Disney's West Side. Fit2Run operates 8 locations in Florida, with the closest being at Florida Mall. The new store will offer video gait analysis, an indoor test track, and first releases on new shoes. The new space for Fit2Run was created during the conversion of Virgin Megastore into Splitsville, and has up to now remained unoccupied.
At the first ever D23 Expo in Japan, Disney has released a first real look at the AVATAR project coming to Disney's Animal Kingdom in 2017.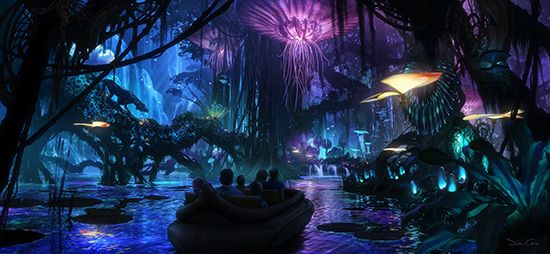 Three pieces of concept art and a photo of the project model give us a first look at what we can expect of the project since its announcement just over 2 years ago.
Tom Staggs says, "Guests will encounter awe-inspiring floating mountains and wander through a nighttime jungle of bioluminescent plants that are alive with light and sound. Guests will also discover what it feels like to soar into the sky riding a Banshee."
This is the first time that any details of the ride experience have been officially mentioned. Along with the simulator based flight attraction, concept art also shows a boat ride.
Also confirmed is that AVATAR will be located in the area currently occupied by Camp Minnie-Mickey, and the area will be expanded beyond that original space.
Video and pictures from the Disney Parks Blog.
Along with the release of AVATAR concept art, Disney has also announced that a series of new entertainment offerings will be coming to Disney's Animal Kingdom.
Tom Staggs said Disney will be "adding all-new entertainment experiences, including a new nighttime spectacular where live music, floating lanterns, water screens and swirling animal imagery all combine to bring a show to Discovery River that will delight our guests and truly cap off their day at Disney's Animal Kingdom. The park will introduce more nighttime entertainment as well, including live performers on Discovery Island and a new nighttime version of the Kilimanjaro Safaris."
While no specific date has yet been made public, Disney has told cast members that Camp Minnie-Mickey will be closing in 2014. Mickey and Minnie have already been relocated to a new meet and greet location at the Adventures Outpost, and the Festival of the Lion King is currently being rebuilt in Africa. The other characters will find new homes throughout the park.
The Studio Backlot Tour at Disney's Hollywood Studios is scheduled to be closing for a lengthy refurbishment in early 2014.
The tour will close on 1/5/2014 through 3/1/2014.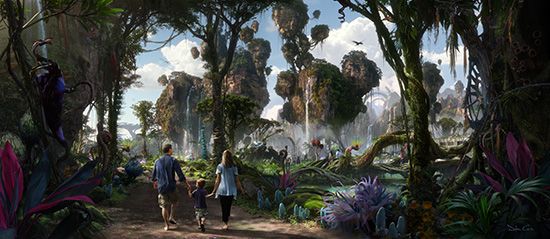 To mark the occasion of the 15
th
anniversary of Fantasmic! the show debuted the first use of 'Glow with the Show' light up ear hats at Walt Disney World.
The ear hats, which sell for $25, make you part of the show as they synchronize with show elements. The hats will soon become part of the show at Wishes, Celebrate the Magic, and The Osborne Family Spectacle of Dancing Lights.
Video from WDWMagic:
If you are staying at a Walt Disney World Resort and looking forward to participating in the MyMagic+ MagicBand testing, here is the full schedule for the remaining resorts to rollout. As it stands now, all resorts will be participating by October 23, 2013. The following testing is expected to run through until November 30, 2013.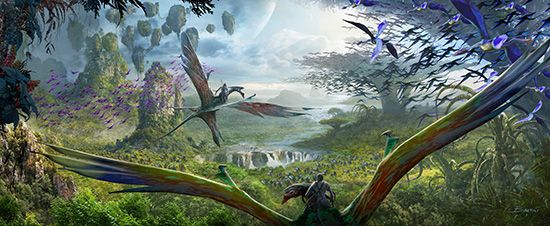 Wetzel's Pretzels and Haagen-Dazs at Downtown Disney will have its final day of operation on 10/19/2013. The location will then close to make way for the previously announced Starbucks which is set to open in Spring of 2014. A Wetzel's Pretzels and Haagen-Dazs kiosk will open at the end of the year near to Disney Quest.
Hoping to help with the restricted parking availability at Downtown Disney due to Disney Springs construction, a valet parking service is being introduced. Beginning 10/21/2013 and running through the holiday period, the service will be available daily from 4:00 PM to 2:00 AM at a cost of $15 excluding tip. The vehicle drop off and pickup location is in front of Cirque du Soleil on the West Side. You will be able to notify valet that you will be picking up your car via text message, phone, or in person at the stand.
Tables in Wonderland members will receive complimentary use of the service with a restaurant dining receipt.