Welcome to the latest edition of Ears the News
Magical Dining is back in the Orlando area, with several Disney Springs restaurants taking part for 2018.
Each restaurant features three-course, prix fixe dinners at $35 per person. Plus, through Visit Orlando, one dollar from each meal supports Best Buddies and Down Syndrome Association of Central Florida.
Magic Dining menus are available August 24 - September 30, 2018, during the restaurants' normal dinner hours. For 2018, the only Walt Disney World Magical Dining restaurants are at Disney Springs and the Walt Disney World Swan and Dolphin. Unlike in 2017, no Disney operated locations are taking part.
Disney springs locations include the recently opened Maria & Enzo's, Terralina Crafted Italian, Wine Bar George, STK, Paddlefish, Bongos and Morimoto Asia. At the Walt Disney World Swan & Dolphin, Todd English's blue zoo and Il Mulino are taking part.
The Magic Kingdom's classic Mad Tea Party ride in Fantasyland debuted a new lighting package for this year's Mickey's Not-So-Scary Halloween Party.
Using overhead mounted articulated lighting fixtures, the ride gets a much more dynamic ride experience after dark on Halloween Party nights. Disney has so far said that the lighting will only be available on Party nights, but the lighting appears to be installed permanently, complete with color matched light fixtures to the roof structure. So it seems likely that at some point is may become a regular nighttime feature.
Video courtesy of WDWMagic.com
Having trouble viewing the video? Click here to view on YouTube.
Disney will be offering two gifts for Annual Passholders at this year's 2018 Epcot International Food and Wine Festival, along with a few other merchandise perks.
AP holders can get a Chef Mickey magnet on their first visit and a Chef Mickey cutting board (pictured above) on their fourth visit.
On Aug 30, Sept 20 and Oct 18, Annual Passholders gain early access to the Festival Center and Mouse Gear to shop newly-released merchandise.
Finally, Annual Passholder merchandise will be released on Aug 30, Sept 20 and Oct 18 at the Festival Center, Mouse Gear, Pin Central, World Traveler and the merchandise kiosk between Japan and Morocco.
Pluto's meet and greet location at Disney's Hollywood Studios has been temporarily relocated.
The Animation Courtyard location is closed August 27 - 30 for refurbishment, with Pluto now meeting guests on Commissary Lane.
Aella (pronounced "eye-la"), is the latest new arrival at Disney's Animal Kingdom.
The two-month-old Masai giraffe calf was born on June 29, and until now has been spending time with her mom Lily backstage, but can now been seen on Kilimanjaro Safaris.
The Masai giraffe is a vulnerable species found primarily in Kenya and Tanzania. There are believed to be roughly 32,000 Masai giraffes left in the wild, and their population continues to decline because of poaching and habitat loss.
Aella's birth marks a first for her parents – mom Lily and dad George. The pair was chosen to breed through the Species Survival Plan (SSP), which is overseen by the Association of Zoos and Aquariums and ensures responsible breeding of threatened and endangered species.
According to a posting on the official Sammy Duvall's Watersports Centre website, the last day of operation will be August 31, 2018.
To all our fans and families who have enjoyed a day on the water with us a great thank you for the support. It has been a joy to share the sport we love with everyone along the way!
We are sorry to inform you that after 20 years of water sports operations at Walt Disney World our last day will be 8/31/2018. Accordingly, if you have a future prepaid reservation we are issuing a refund to the credit card used for your reservation. If you have a future non paid reservation you will be receiving a email cancellation notification today as well. If you have any questions regarding your refund you may contact The Gardens course at Disney's Fantasia Gardens Miniature Golf will be closed Tuesday September 4 through Friday September 28 for refurbishment.
The Fantasia course will remain open during the refurbishment, as will the Winter Summerland courses near Blizzard Beach.407-939-0754.
Disney has released a new piece of concept art giving us a first look at Oga's Cantina, opening with Star Wars Galaxy's Edge in 2019 at Disney's Hollywood Studios.
According to Scott Trowbridge of Walt Disney Imagineering, "Visitors come to this notorious local watering hole to unwind, conduct shady business, and maybe even encounter a friend…or a foe. Run by an intriguing alien proprietor, Oga Garra, the cantina adheres to a strict code of conduct that tries to keep its unruly patrons in check. But with a history of being a smugglers' safe haven and a popular stopping point for those seeking to avoid the authorities, you can bet that the cantina has a story or two to tell.
Oga's Cantina is the kind of establishment that attracts some of the most interesting and disreputable characters in the galaxy. And you never know when a stormtrooper or a familiar face will show up. Patrons of the cantina come from across the galaxy to sample the famous concoctions created with exotic ingredients using "otherworldly" methods, served in unique vessels. With choices for kids and libations for adults, the cantina will make for a great stop!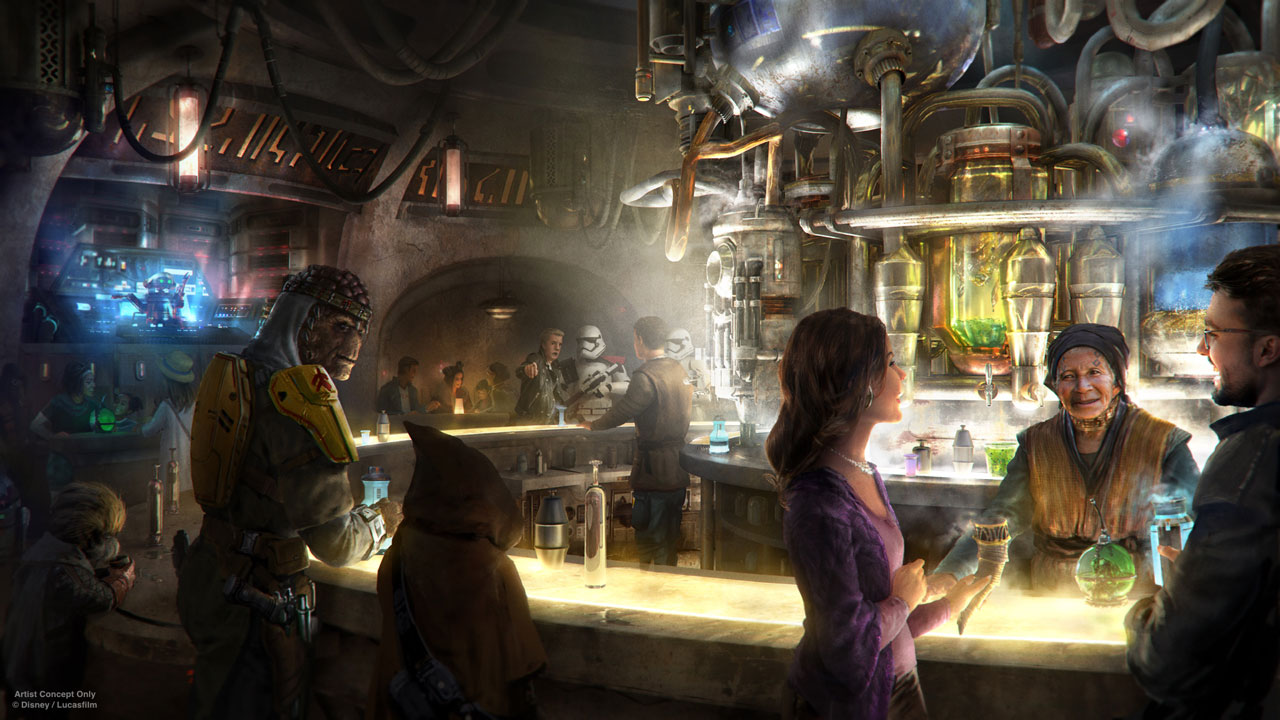 Photo courtesy of Disney Parks Blog
Musical entertainment is provided courtesy of RX-24, the former StarSpeeder 3000 pilot droid we first met in Star Tours, who has re-envisioned himself as the cantina's DJ. As quirky and talkative as ever, he's still trying to do his best on the job.
Get ready to listen to some unique music, taste the best drinks in the galaxy, and surround yourself with a colorful cast of characters. You never know what will happen at the cantina!"
Disney has announced that a new immersive character dining experience will be coming this winter to Artist Point at Disney's Wilderness Lodge Resort.
Artist Point will continue to operate as a signature restaurant through November 10, 2018, prior to the switch over to character dining.
According to Disney, "Storybook Dining at Artist Point will invite guests to venture into an Enchanted Forest-like setting inspired by Walt Disney's "Snow White and the Seven Dwarfs." There, you'll enjoy a delicious meal of fantastic fare with visits from Snow White, Dopey and Grumpy. Delightful music and activities will help bring the classic fairytale to life, and you'll even have an opportunity for an encounter with The Queen.
This immersive character dinner takes place amidst the rustic elegance and exceptional dining that Artist Point is known for. You'll enjoy a uniquely themed prix fixe menu, including shared starters, a choice of individual plated entrees and 'sweet spells' to finish the meal."
Tatooine Traders at Disney's Hollywood Studios will be undergoing a refurbishment beginning September 5, 2018.
The Star Wars shop at the exit of Star Tours is will be receiving some enhancements with a relaunch expected in mid-October 2018.
During the work, the Doid factory and Amazing Pictures areas will not be available. A Droid factory can be found in Star Wars Launch Bay, and Amazing Pictures can be found at Rock 'n' Roller Coaster.
The remainder of the store will remain open during the refurbishment.
Looking to plan your next trip to Walt Disney World? Contact the agents at Kingdom Konsultant Travel to help you plan your dream vacation. Email vacations@kingdomkonsultant.com for a free quote today.